Participants: 
Reverend and Bank Manager, Ms. Cheryl D. Jackson, USA 
Pastor Melissa Williams, USA 
Teacher of International Education, Mr Masahisa Minato, Kanagawa ken, Japan
Radio personality, Ms. Chie Kumagai of Cross Cultural Communication Service, Director, Japan.
Emmanuel Gbevegnon, co-founder of the Africa-America-Asia Group for Reconciliation,  Photojournalist;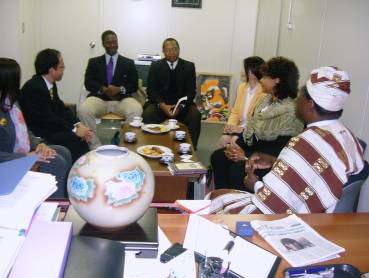 The visit was planned to listen to each other's vision about the Reconciliation.
It was also an opportunity to exchange gifts.
Pictures were taken.
Enjoy!